BOTANICAL FUSION. SINGAPORE TO DUBLIN EXHIBITION
:
GERARD BYRNE STUDIO - DUBLIN
Past exhibition
The Gerard Byrne Studio presents Gerard Byrne: Modern Irish Impressionist's first ever collection of lush tropical flora plein air paintings from Southeast Asia.
The highly anticipated Botanical Fusion exhibition created during Gerard Byrne's Artist-in-Residence at the Singapore Botanic Gardens in Autumn 2019 has made its way to Dublin.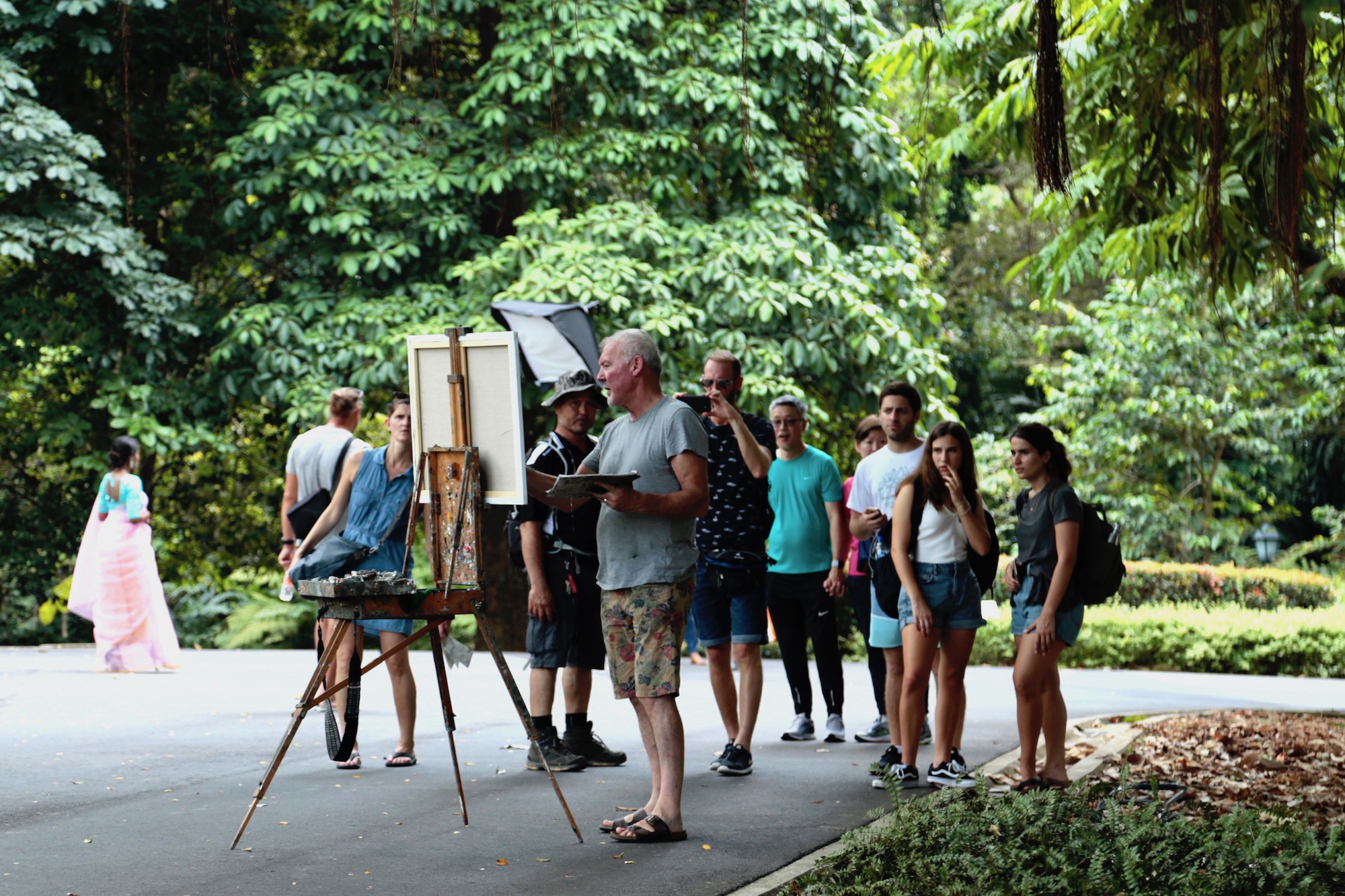 Phot. Gerard Byrne painting plein air Weekend Vibes, Singapore Botanic Gardens, Sep 2019
Curated by The Gerard Byrne Studio, co-hosted by the Singapore Botanic Gardens and the Irish Embassy to Singapore and supported by the Department of Foreign Affairs. Seen by over 50,000 visitors to the Gardens was a part of the commemorative celebration of the Singapore Botanic Gardens' 160 years in existence. Moreover, the exhibition formed part of the Government's 2025 Asia Pacific Strategy to increase Ireland's visibility in the Asia Pacific region.
With the first chance to see the collection in the artist's home country, visitors can expect to see new works which show great contrast between the Singapore Botanic Gardens and the National Botanic Gardens of Ireland. Being encouraged to travel across the globe to experience "a different quality of light, strong shadows and deep colours" resulted in a collection of vibrant, exotic and luscious large scale paintings. The series "captures not only what I see but also the energy of my surroundings", Gerard Byrne.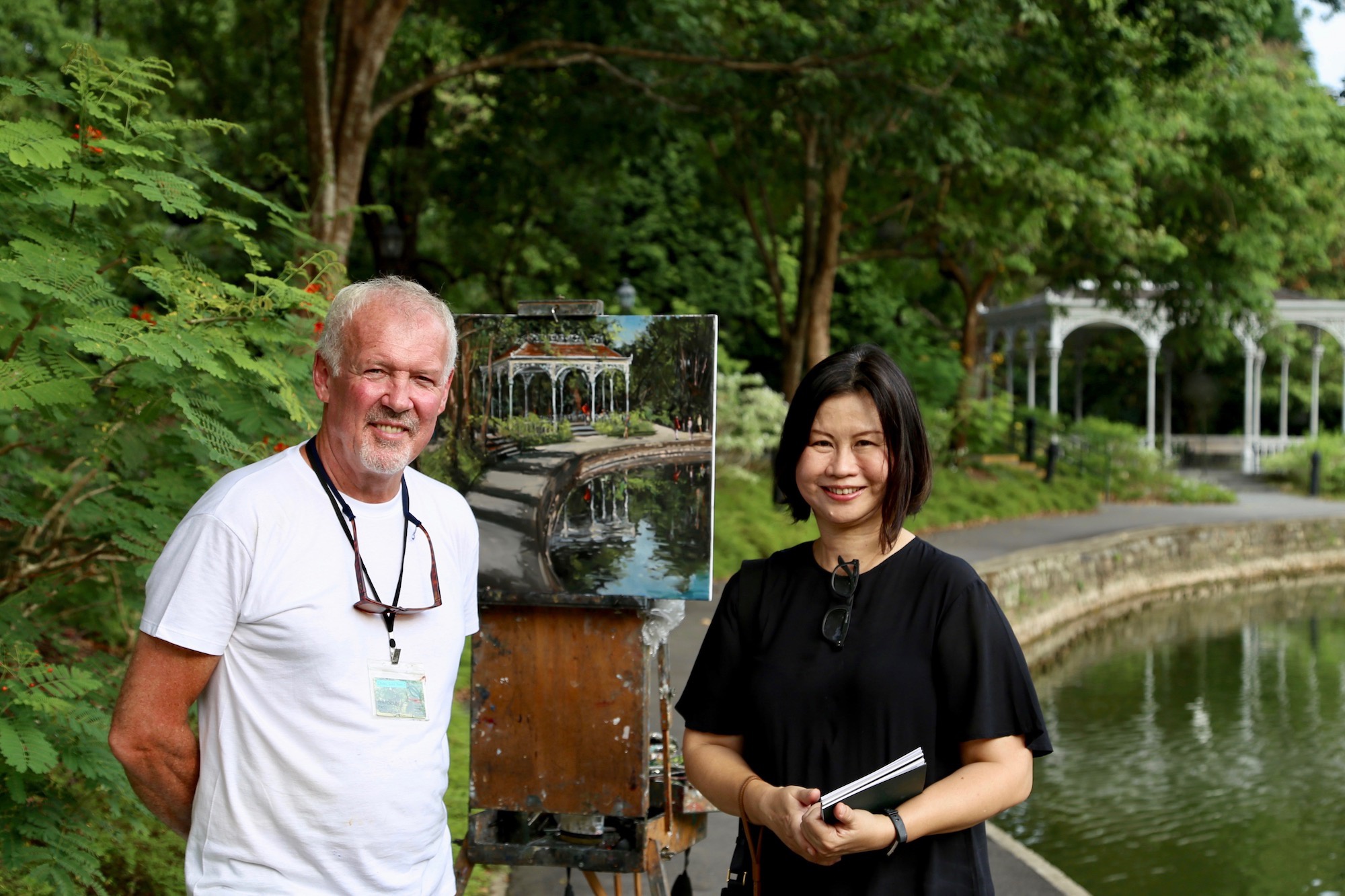 Phot. Gerard Byrne with Pauline Gan, Plural Art Mag at the Swan Lake, SBG Sep 2019
Making his mark on the Singaporean art scene, and notably featured in art magazine, Art Plural, Gerard's work has been recognised worldwide. "The rapidly changing light, shadows and even the noises and sounds around him, are somehow captured and expressed in the works themselves" - Pauline Gan, Artists in the Gardens, Plural Art Magazine.
Ireland's Ambassador to Singapore, Patrick Bourne, added "The new works that Gerard produced during his time as Artist-in-Residence at the Singapore Gardens are extraordinary and represent a unique rendering of the colour and atmosphere of this tropical place through the prism of a great Irish eye and talent."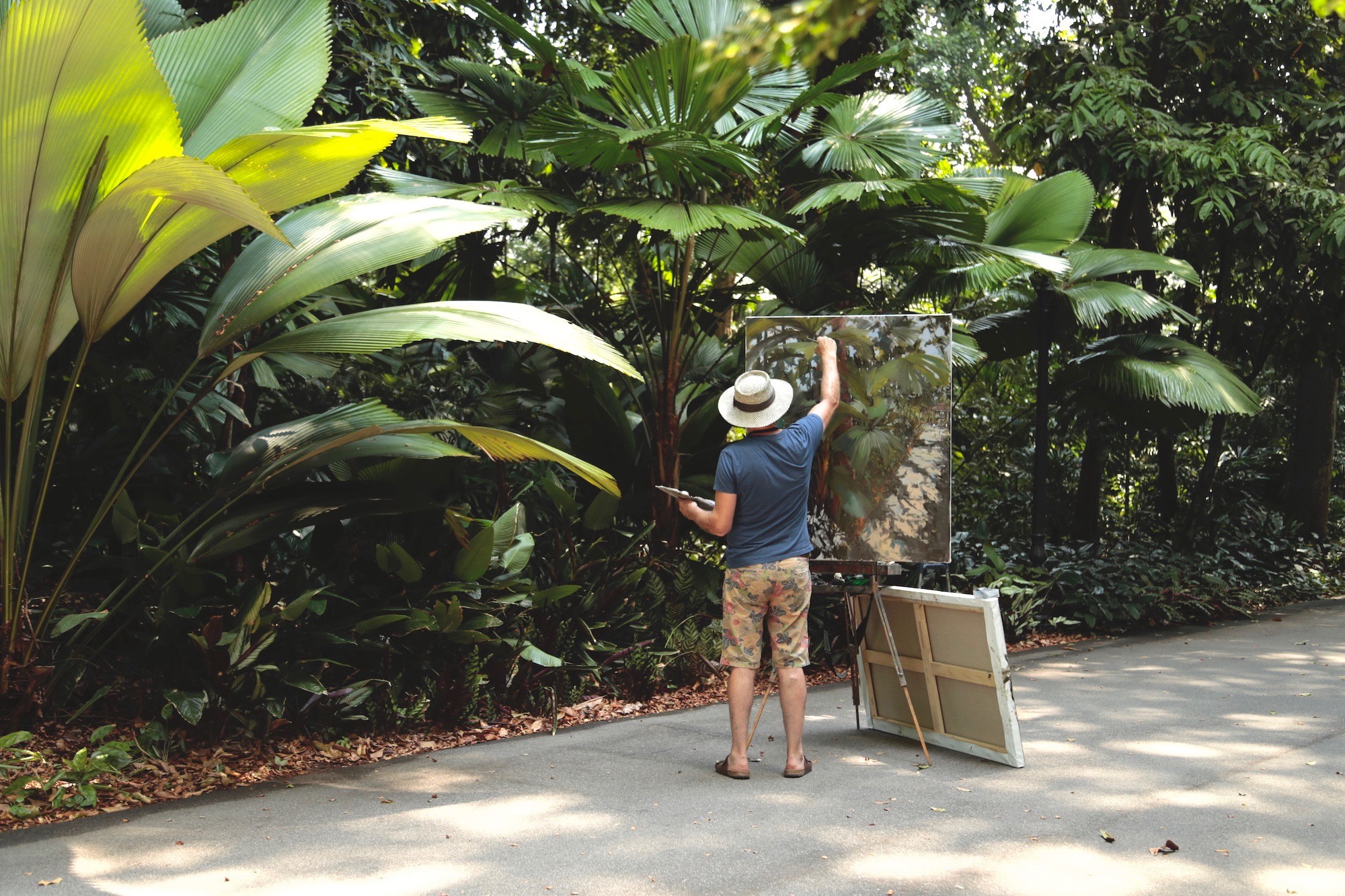 Phot. Gerard Byrne painting plein air Jungle Vibes, Maranta Avenue SBG, Aug 2019
Gerard's painting Jungle Vibes is now part of the permanent collection of the Singapore Botanic Gardens, along with many other works which hang in numerous commercial and private collections worldwide.
Botanical Fusion. Singapore to Dublin exhibition was launched by Mr Ron Bolger, Honorary Consul - General of Singapore in Ireland on Thursday 27th February 2020.
Sadly, two weeks later the gallery had to temporarily close due to the Covid-19 pandemic and the exhibition hasn't been seen by a large audience in the artist's home country.