CONNECTIONS. COASTAL SOUTH DUBLIN EXHIBITION
:
WILTON GALLERY - SANDYCOVE / GLASTHULE
Past exhibition
Gerard has a distinct attraction to the sea. He admits he is drawn to it and that he likes living close to it, his current home being a mere ten minutes' drive from the shores of Dublin Bay. As a former lighthouse technician for Irish Lights and, of course, having lived for many years in Dalkey and Sandycove, the sea has always been a presence. 'I like knowing it's there', he says and many of us who live in Ireland can equate with that.
The sea is in our consciousness, an integral part of Irish history and our identity. In some ways, living through the restrictions imposed during the covid pandemic has reaffirmed the extent to which we rely on sea and how sequestered we are when it is taken away. We also fell in love a little more with our beautiful coast, appreciating its natural beauty, many of us taking to sea swimming and beach walking.
The exhibition title draws from Byrne's connections to the area and the coastal landscape of the South Dublin Bay. The new collection of oil paintings and charcoal drawings explores and revisits the coastal villages and the shoreline surrounding Dalkey, Sandycove, Glasthule, and Dun Laoghaire.
CONNECTIONS
Exhibition OFFICIAL OPENING | Thursday, October 27
Reception | 6 - 8 pm
Wilton Gallery
55 Glasthule Road, Sandycove, Co Dublin (google map)
* Located between Mitchell & Sons Wine Merchants and Cavistons Restaurant
---

Byrne's method of practice has evolved over the years. His diverse use of pigments: serene blues, fresh greens and lilacs in his paintings often over large-scale canvases, combined with his use of light have allowed his work to have a fluidity and expressiveness that responds to the interchanging landscape. Bright and harmonious artworks are remarkably story-driven narrative pieces, adding such an immersive
interaction with its content. With his swift decisive strokes, balancing tonal contrast and gradient he offers an aperture into the interaction of the piece making the viewer feel as if they were there themselves.

Byrne's drawings provide a masterclass in the medium of charcoal. The way in which he uses charcoal and attention to specific tonal consistencies allows him to compose scenes filled with motion. The final drawing, often mixed with the use of oil paints creates bold and energetic compositions.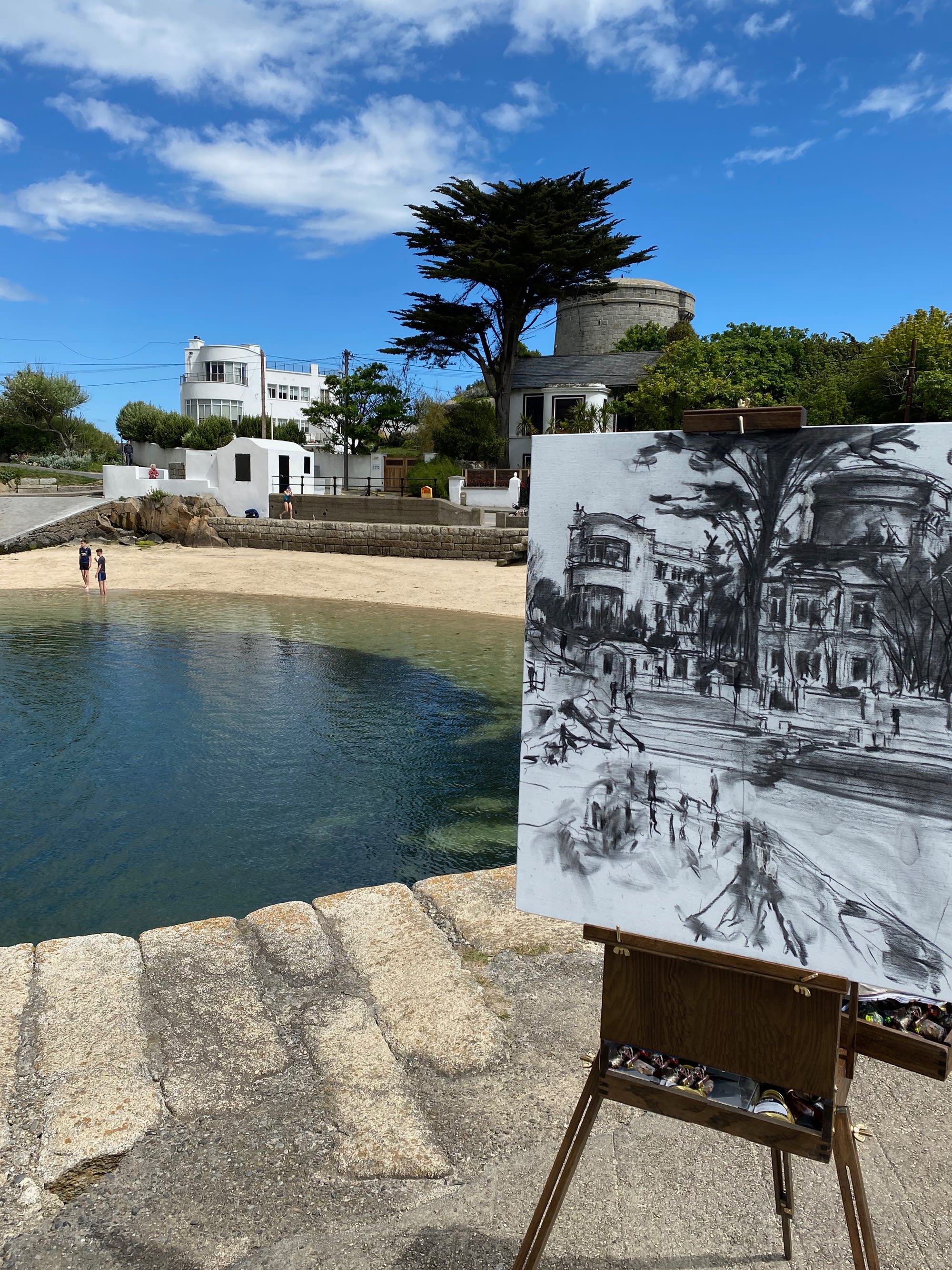 Phot. Gerard Byrne | en plein air (

on location)

'Caribbean Dreams. Sandycove III' in the making, at charcoal sketch stage; Sandycove Beach, Co Dublin
For Byrne, painting is about revealing the beauty hidden in the everyday; like Monet,
Caillebotte and Sorolla, his artwork elevates the ordinary to the extraordinary, finding
harmony and elegance in simple street and landscape scenes. Using light and colour as his medium, Byrne presents the world through a new lens. His artistic language is ultimately vivid, powerful in its honesty and emotive with a level of sincerity.