Knaresborough Castle Bowling Green
The start of the summer has brought some exciting news! It also generated a new date in Gerry's busy calendar. On the 21st of June Gerard Byrne was to join seven other artists in Knaresborough Castle in Yorkshire selected out of over 1,000 artists who have applied for 48 places in the heats, filmed at locations across the UK. Landscape Artist of the Year 2017 SKY Arts programme sounded like a great adventure, if anything.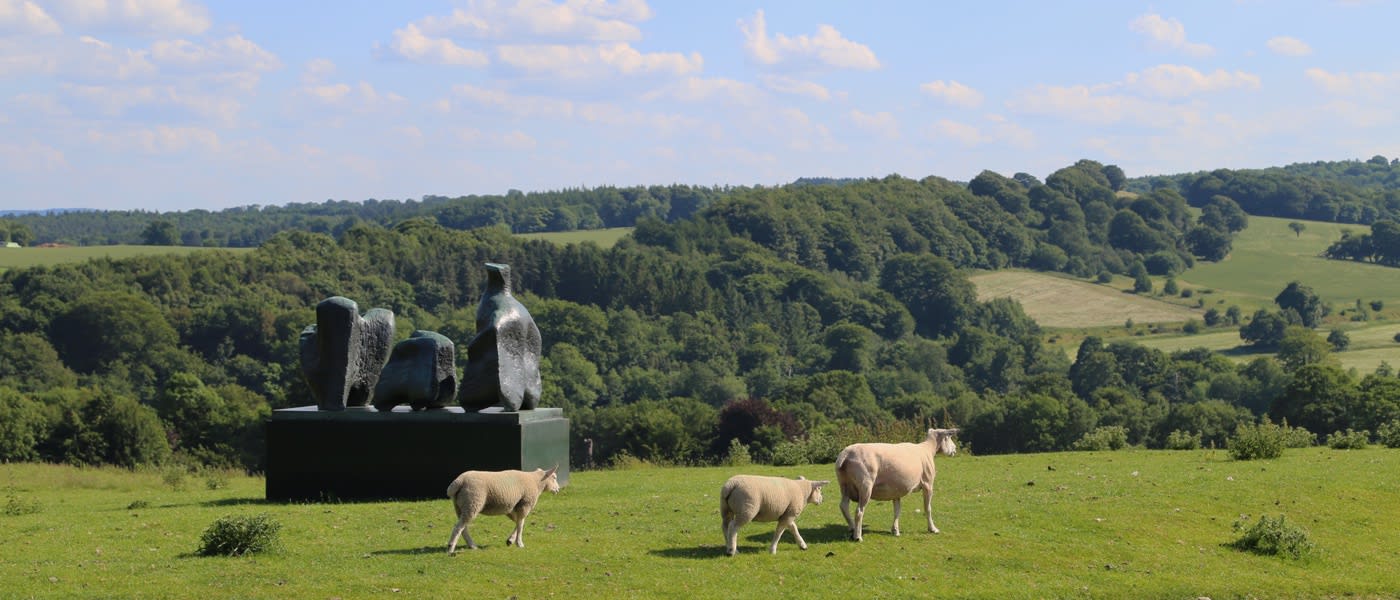 The journey from Brighton to Knaresborough turned into a road trip in a van full of canvases, paints, brushes and … good music. The anticipation of the event was great. Although quite used to being watched during his work, it is not every day that Gerard would have presenters Frank Skinner & Joan Bakewell with expert judges art curator Kathleen Soriano, art historian Kate Bryan, and award-winning artist Tai Shan Schierenberg peeping over his shoulders while he paints. Not to mention the cameramen with their big professional cameras!

How to relax was a big question for our camera shy artist. The solution appeared with the realisation that The Yorkshire Sculpture Park was nearby and could be visited on the way. It had already been on the Byrnes 'must see' list for a long time. Indeed the works of the creative giants like Barbara Hepworth, Henry Moore, Anthony Gormley or Tony Craig provided inspiration and a reminder that a challenge and risk are integral parts of any artistic endeavour.
Wednesday morning on 21st June started early, at 6 a.m. with breakfast for all the participants and the Sky Arts crew on a bus. It felt exactly like a proper film set! Together with the professionals there were fifty amateur artists who were given 'wild cards' to paint. The atmosphere was electric, the excitement was tangible!
The eight competitors were lead to their pods and the subject announced. They were to paint Knaresborough Bowling Green complete with teams of bowlers and a match in full swing. It is not exactly a subject Gerard would pick voluntarily. However a competition was a competition and the time set from 9 a.m. till 4 p.m. Gerard decided to make the most out of the day and ensure he would not only do his best but also enjoy himself. The day flew. Byrne is a fast painter and despite the big format he was working with, he managed to finish his work as first. Viewers were keen to watch and admired him painting. They were generous with their complements, clearly impressed by Gerry's speed and approach, expressing their best wishes for Gerry.

When the time was up the artists were gathered and the verdict announced.
And the winner of the first episode of 'Landscape Artist of the Year 2017' Knaresborough Castle Bowling Green is ..... Fadi Mikhail.

Congratulations to the winning artist!
October 17, 2017