30th july - 1st august 2021
This Summer will see the 14th year of Wexford's 'Art in the Open' annual outdoor painting festival, taking place from the 30th July to the 1st August. Gerard Byrne has been invited as one of four Tutor Artists to perform live painting demonstrations over the course of the festival.
Known to be the largest 'plein air' painting festival in Europe, this year's 'Art in the Open' event will feature a number painting workshops (two by Gerard) along with on-easel exhibitions each evening at the Wexford quay. Artists from around Ireland and abroad are invited to paint (spectatoors are welcome) at three different locations, all of which are a short drive from Wexford town, including the North Slobs Wildfowl Reserve at the estuary of the River Slaney, the award winning Irish National Heritage Park at Ferrycarrig, and the picturesque harbour town of Wexford itself. Originally a Viking settlement founded in 800AD, Wexford is famed for its beautiful natural harbour, its winding lanes, and its multitude of pubs, art galleries, restaurants and craft shops.
Moreover, four professional plein air painters; Gerard Byrne, Paul O'Kane, Kate Kos and Dave West will also offer a number of masterclasses and live art demonstrations conducted throughout the weekend. Each workshop will run for approximately two hours followed by Q&A with the Tutor Artist.
Gerard Byrne Pintar Rapido London from Tall Tales on Vimeo.
Gerard is celebrated for his vibrantly evocative and large scale plein air scenes, and has previously taken part in both Sky Arts Landscape Artist of the Year 2017 tv programme and 2016 Pintar Rapido London, the UK's largest outdoor painting competition, where he achieved second prize. Live painting demonstrations are an opportunity to see Gerard at work, and witness his painting process in the beautiful setting of Ireland's (hopefully Sunny) South East!

Registration for classes is essential as spaces are limited.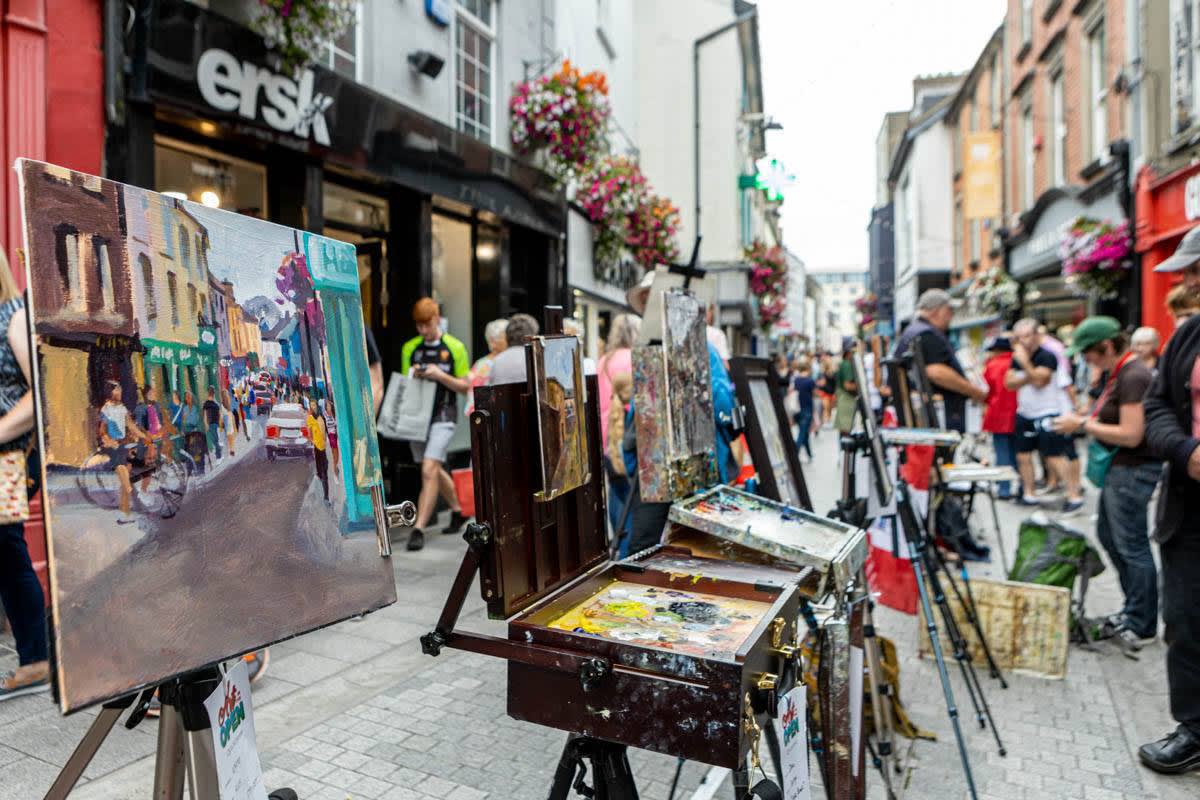 Each day from 6-7pm at the Wexford quayside you will have a unique opportunity to view and purchase artworks created that day by all participating artists (listed as one of 'The Best Pop Ups in Ireland This Summer' by The Gloss Magazine). A truly wonderful mix of different styles and mediums is expected to be on display. This is a fantastic opportunity to buy artworks directly from the artists and support them in these times.
Get yours fresh off the easel!
April 27, 2021