Hardback, sewn
Turning Corners
Publisher: Gerard Byrne Studio
Dimensions: 320 x 240mm
Pages: 348
ISBN-13: 978-1-9162031-0-5
€ 150.00
A beautiful and inspirational home addition.

Thoughtful and timeless gift for art enthusiasts and Dublin architecture and Irish landscape - obsessed.

Collectible Artist Book for true connoisseurs.
Edition: 1,000 copies
Artworks: 150
Colour illustrations: 209
Publisher: Gerard Byrne Studio
Artworks: Gerard Byrne
Text: Susan Stairs
Note: Fiona Slevin, Chair Ulsara
Design: Ruža Leko, Studio Suss
Editor | Curator:
Agata Byrne
Artworks scanning:
The Copper House
Cover: Hardback, sawn, book cloth finish with front cover image 'The Ash on Ashfield Road' print

Printed in Italy on 135gsm Tatami White
FSC Certified
ISBN: 978 - 1 - 9162031 - 0 - 5
A FEAST FOR ART ENTHUSIASTS
Charting in spectacular colour Byrne's artistic journey during the three Lockdown phases of the Covid 19 pandemic, spanning the period Spring 2020 to Summer 2021.Turning Corners – the artist's first publication – shows us how his victory over initial negativity led him to embrace the curtailment of certain freedoms and, ultimately, enjoy an unconfined explosion of creativity.
Turning Corners features illustrations of Byrne's complete lockdown output of 150 stunning artworks, and, along with accompanying text by Susan Stairs, offers a rare and captivating visual record and time capsule of our national topography, both urban and rural, during a period of global significance.
Byrne's lockdown odyssey began in April 2020 on the rooftop of his home and studio on Chelmsford Road, Ranelagh, a practice that attracted huge media interest and earned him the moniker 'The Artist on the Roof'. Over the months that followed, he brought his easel out onto the streets, exquisitely capturing his local area in oils and charcoal, venturing further afield when restrictions allowed.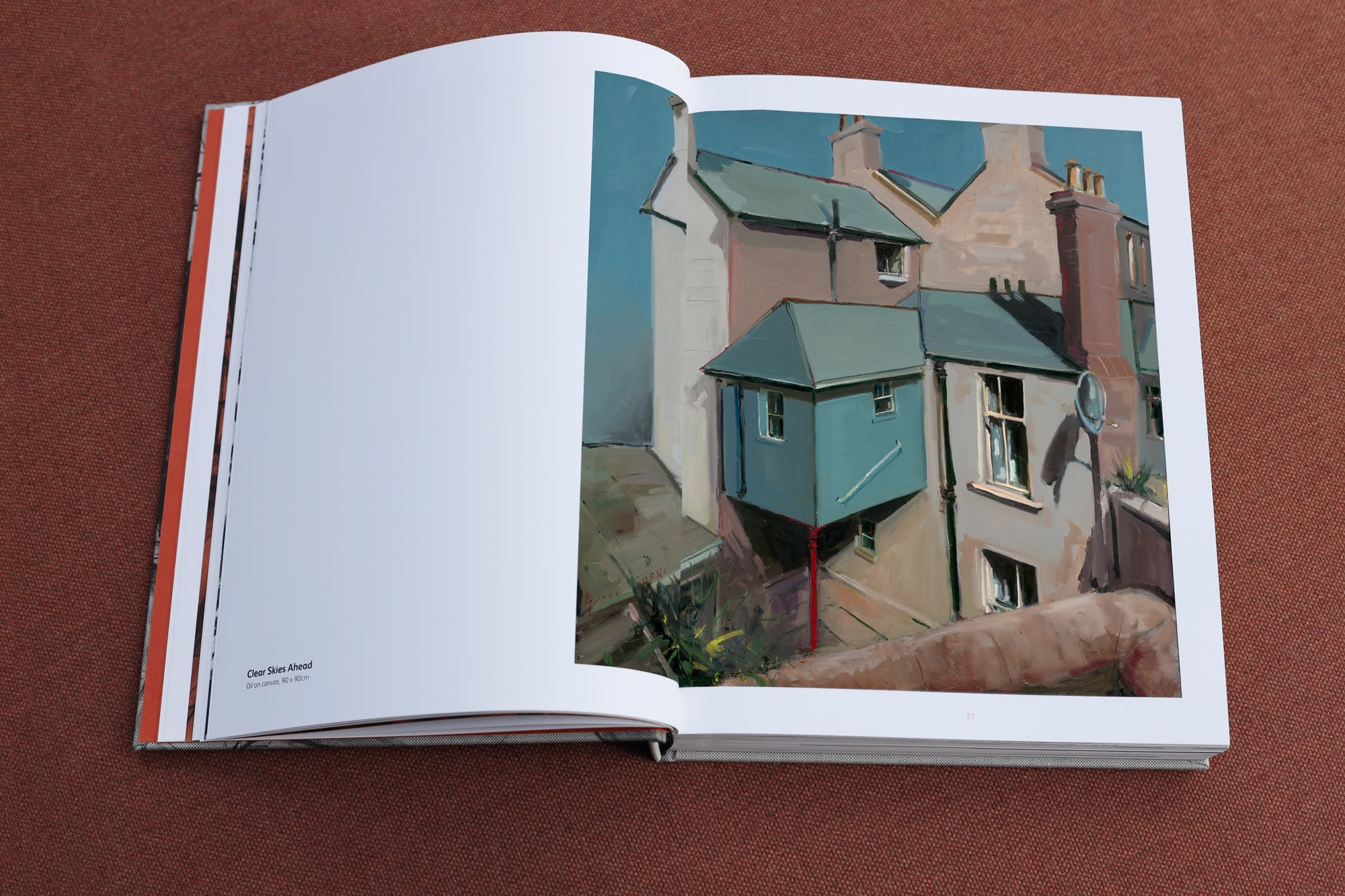 Gerard Byrne | Turning Corners. Clear Skies Ahead, p 20 - 21
These outstanding Modern Impressionist works include scenes in leafy Ranelagh and Donnybrook; the lush cherry blossoms of Herbert Park and Portobello; Grand Canal's water reflections; the National Botanic Gardens; the coastal villages of Dalkey and Sandycove; and the Dingle Peninsula on Ireland's Wild Atlantic Way.
Byrne also treats us to an arresting series of figurative works which showcase his intriguing imaginative process during the winter lockdown when plein air painting was not possible.
Gerard Byrne | Turning Corners. All My Tommorows, p 184 - 185
Visually magnificent

, Turning Corners

is a book for lovers of art, architecture, horticulture, Dublin, history and Irish landscape. Celebrating positivity and the curative effect of creativity, it will serve as a

POSITIVE LEGACY OF THE PANDEMIC

for future generations.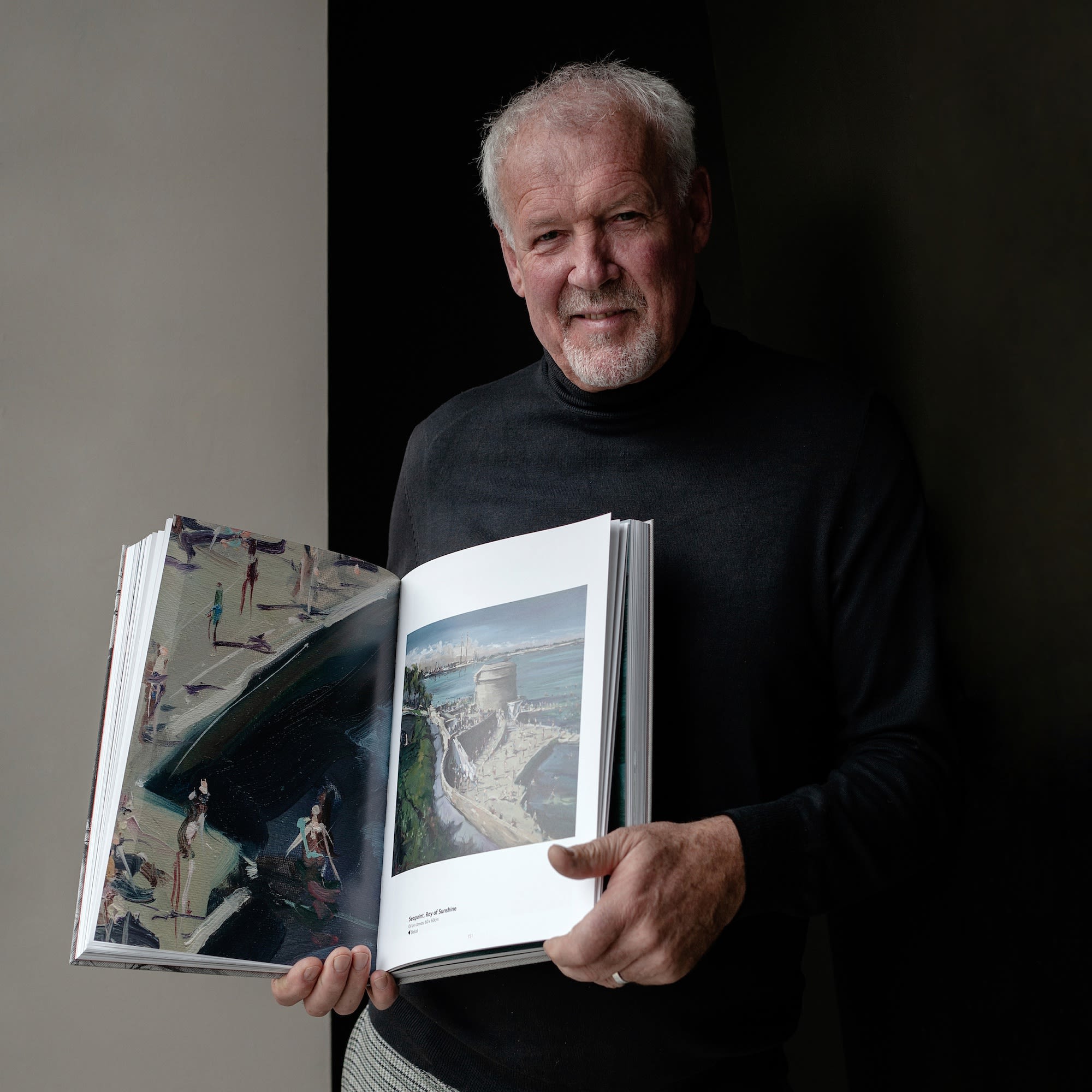 Gerard Byrne with his first premier volume for IMAGE MAGAZINE interview with Megan Burns 'Dublin artist Gerard Byrne on his new book, and how it shifted his perception of the city'; photo credit: Ruth Maria
IN THE COLLECTIONS:
EXCLUSIVELY AVAILABLE FROM:
15 Chelmsford Road, Ranelagh, Dublin 6
The City Assembley House, 58 William St S, Dublin 2
8 Merrion Square, Dublin 2