PAUSE FOR HARMONY - ART IN LOCKDOWN EXHIBITION
:
GERARD BYRNE STUDIO - DUBLIN
Past exhibition
The Gerard Byrne Studio is proud to present Gerard Byrne's second major solo exhibition of 2020 this September, 'Pause for Harmony. Art in Lockdown'.
The exhibition showcases nearly 50 works created by Byrne during the spring and early summer, while the country was in lockdown. Unable to leave his home, Byrne took to the rooftop to paint, earning himself the nickname 'the artist on the roof' predominently thanks to Bryan O'Brien and his video for The Irish Times 'Dublin artist takes to his roof to paint during coronavirus lockdown'. The artist on the roof also featured in a very powerful and emotional video by The Tenth Man 'The Phoenix: Together We Will Rise Again'.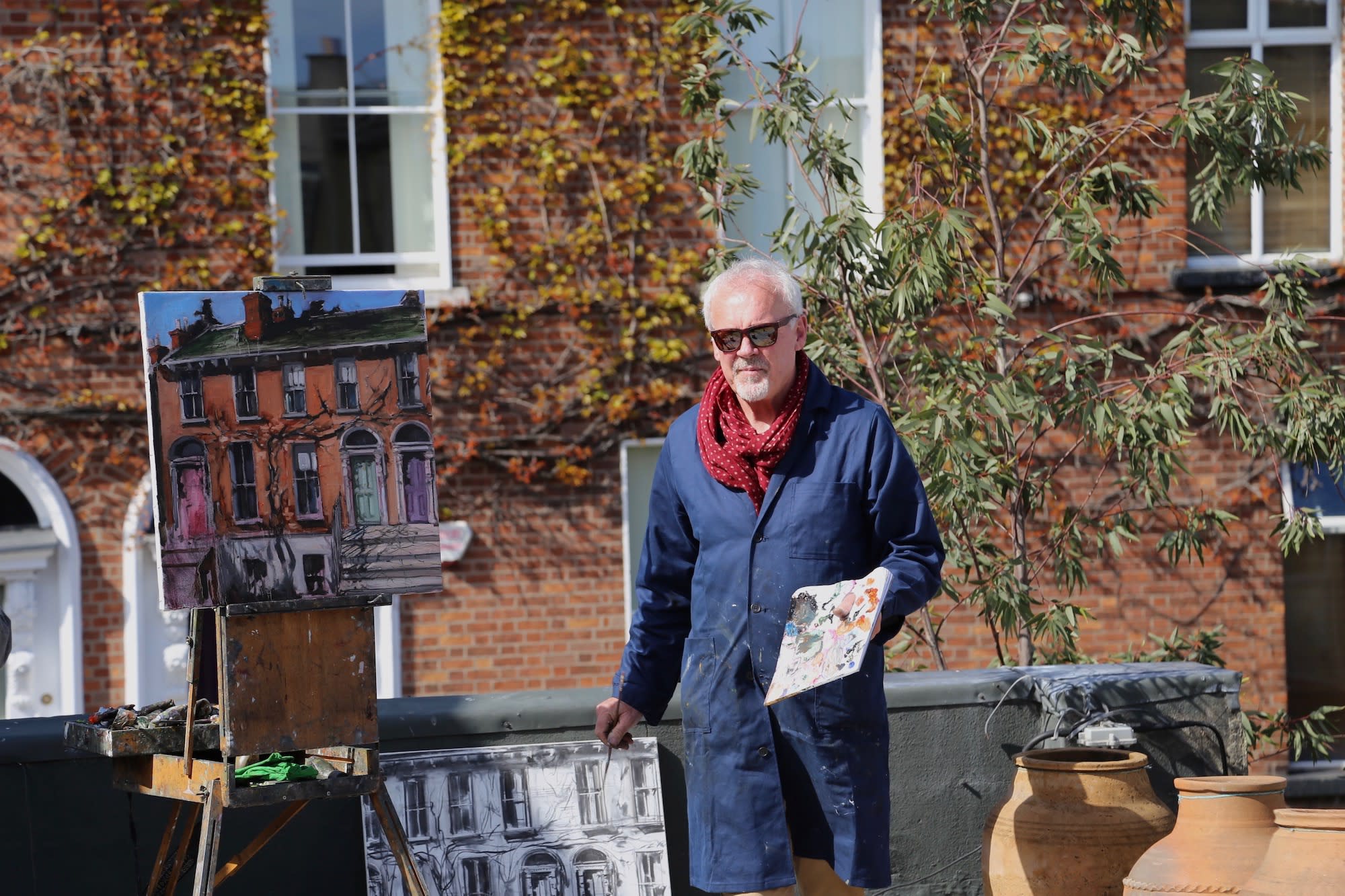 Phot. Gerard Byrne painting en plein air Stay Home. Stay Safe, Gerard Byrne Studio rooftop, April 2020
As lockdown restrictions eased, Byrne travelled further afield, painting from street corners and footpaths in his locality, and finding solace in the familiar scenes. With the early summer sunshine at his back, Byrne brought his easel through South Dublin, and down the iconic coastline.
In many ways, the exhibition is a visual documentation of this unforgettable and momentous time in the history of Dublin city. As Byrne says,
"When I paint outdoors I capture not only what I see but also the energy of my surroundings. I thought this was a very special time and I wanted to capture that collective energy in as many works as I could."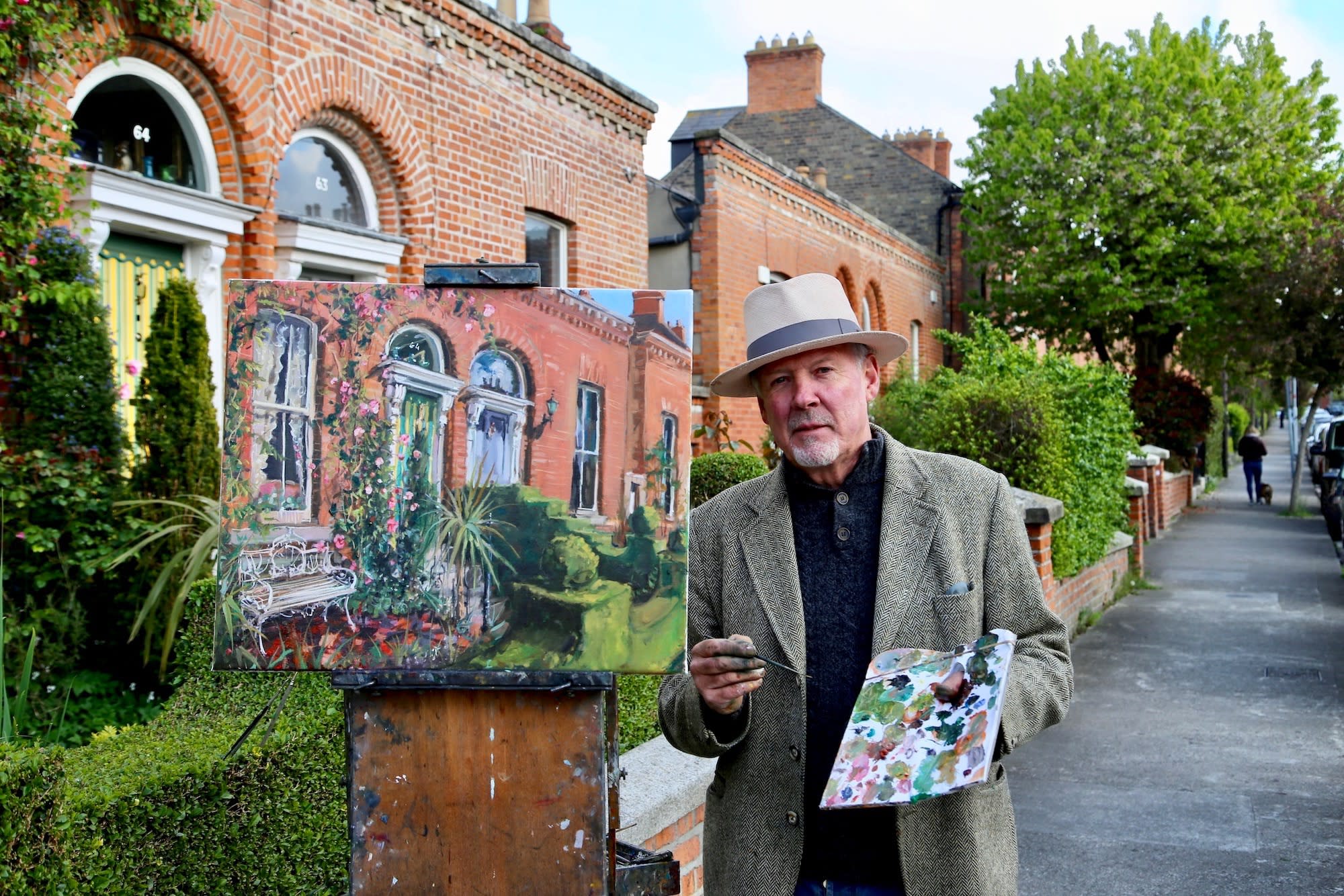 Phot. Gerard Byrne painting en plein air Quiet Now, Beechwood Ave Upper, Ranelagh, April 2020
His paintings pay homage to the Georgian architecture of Dublin City, and evoke the sense of community and tranquility that could be felt on the streets, despite the global crisis in which we have found ourselves. Lockdown became for Byrne, as for many, an unexpected moment of reflection, and of harmony.
Phot. Gerard Byrne painting en plein air Living the Edwardian Dream, Park Drive, Ranelagh, May 2020
From these unexpected beginnings has grown an unexpected collection of work, which in turn has become 'Pause for Harmony. Art in Lockdown.' It is an exhibition unlike anything Gerard Byrne has previously presented, a series of works inspired by the beauty of his home city.
"I decided to concentrate on painting as a way of focusing my mind on something else rather than Covid-19, something over which I had no control. It wasn't my intention to capitalise on what I was going to do. I was purely thinking about my sanity." - Gerard Byrne
Byrne's oil painting is full of bright colour, juxtaposing red brick architecture with the vibrant foliage for which his work has become known. With their unusual perspectives, and skillful contrasts of light and shade, his paintings bring to mind that of the Impressionist Masters, and it is for this reason that Byrne can be referred to as a modern Impressionist.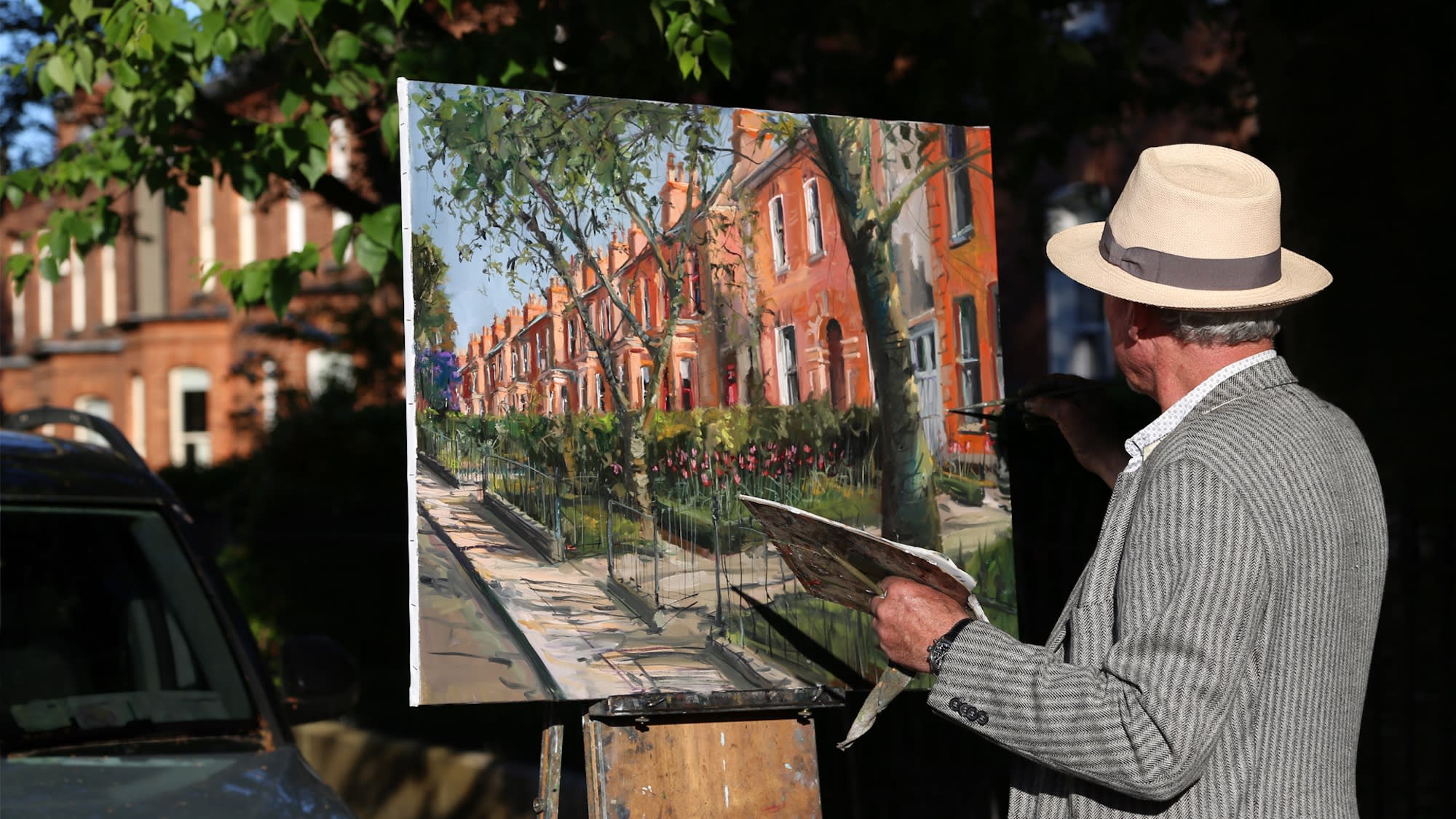 Phot. Gerard Byrne painting en plein air Beechwood Serenity, Albany Road, Ranelagh, May 2020
'PaUSE FOR HARMONY' EXHIBITION
is now availble as
INTERACTIVE 360 GALLERY VIRTUAL EXPERIENCE