*Updated 27th April 2021
"To be a part of such a great initiative was wonderful. I am so pleased my 'Blissful Journey' Fine Art Print raised €1,900, while in total the whole event raised an incredible €232,470! Thanks to everyone who participated!" - Gerard Byrne
23RD - 26TH APRIL 2021
The Event Timetable
starting @ 7:30pm IST
starting @ 2:00pm IST
(extra session added due to phenomenal response from artists)
starting @ 7:30pm IST
To help raise funds for Irish charity, SCOOP Foundation, Gerard Byrne has donated a museum quality ONE OFF Fine Art Print of the original painting 'Blissful Journey' from his recent collection "Pause For Harmony. Art in Lockdown". 'Blissful Journey' is depicting Portobello's Locks Restaurant and picturesque Windsor Terrace by the Grand Canal.

Gerard Byrne | Blissful Journey
Funds raised from the SCOOP Art Auction will go to support displaced young people living in Direct Provision Centres in Ireland and IDP Camps in the Middle East and help implement SCOOP Ed, a program which focuses on aiding vulnerable young people through personal, academic & job seeking support.
This year to repay the kindness of supporting artists during these unprecedented times, SCOOP has offered to share the funds raised 50/50 with the artist. As this is optional Gerard has decided to donate 100% from the sale of his artwork to SCOOP Foundation.
THE LIVE AUCTION
SCOOP ART AUCTION | DAY 4 | MONDAY
26TH APRIL AT 7:30 PM IST
LOT 24: BLISSFUL JOURNEY
MUSEUM QUALITY Fine Art Print
ONE OFF A/P (Artist Proof) Fine Art Print
Framed with museum quality Ultra Vue UV70 anti - reflective glass
Certificate of Authenticity
Hologram with a serial number
Signed at the back
PRE BIDDING IS OPEN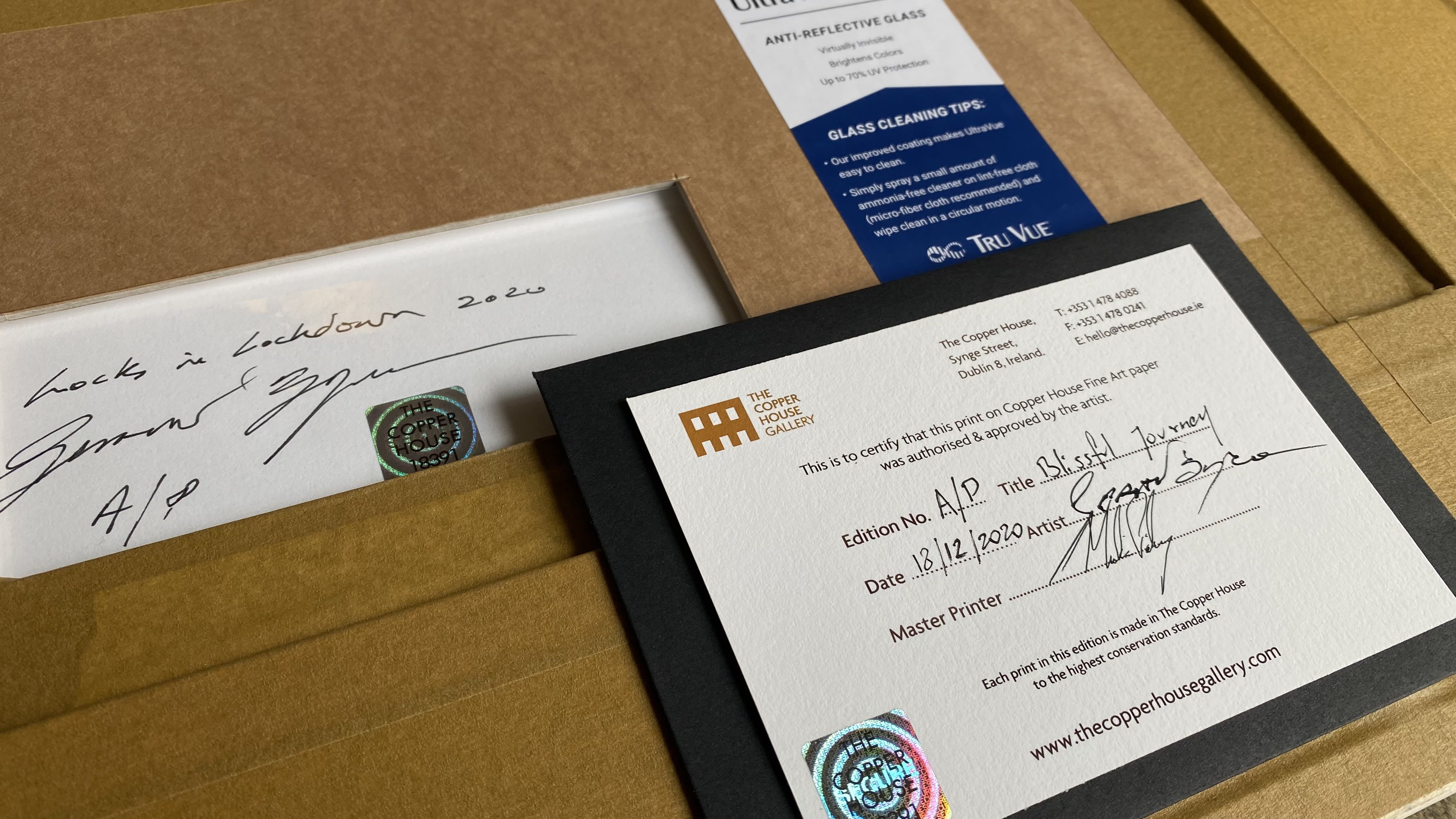 Gerard Byrne painting plein air the original painting 'Blissful Journey'
Windsor Terrace, Portobello, Dublin, June 2020
April 16, 2021