CULTURE NIGHT - PAUSE FOR HARMONY EXHIBITION PREVIEW
:
GERARD BYRNE STUDIO - SOUTH GEORGIAN QUARTER
Past exhibition
This year, Ireland's annual Culture Night will take place on September 18th, and the Gerard Byrne Studio is offering a unique opportunity to visit the gallery for intimate tours of our upcoming exhibition, 'Pause for Harmony. Art in Lockdown'. Guests will have a chance to see the artwork prior to the public opening of the exhibition.
The forthcoming exhibition showcases nearly 50 works created by Byrne while the country was in lockdown. Painting from his rooftop, from street corners and footpaths, Byrne has created a visual diary of this unforgettable moment in Dublin City's history. The collection captures the beauty of the city's architecture amidst the early summer sunshine.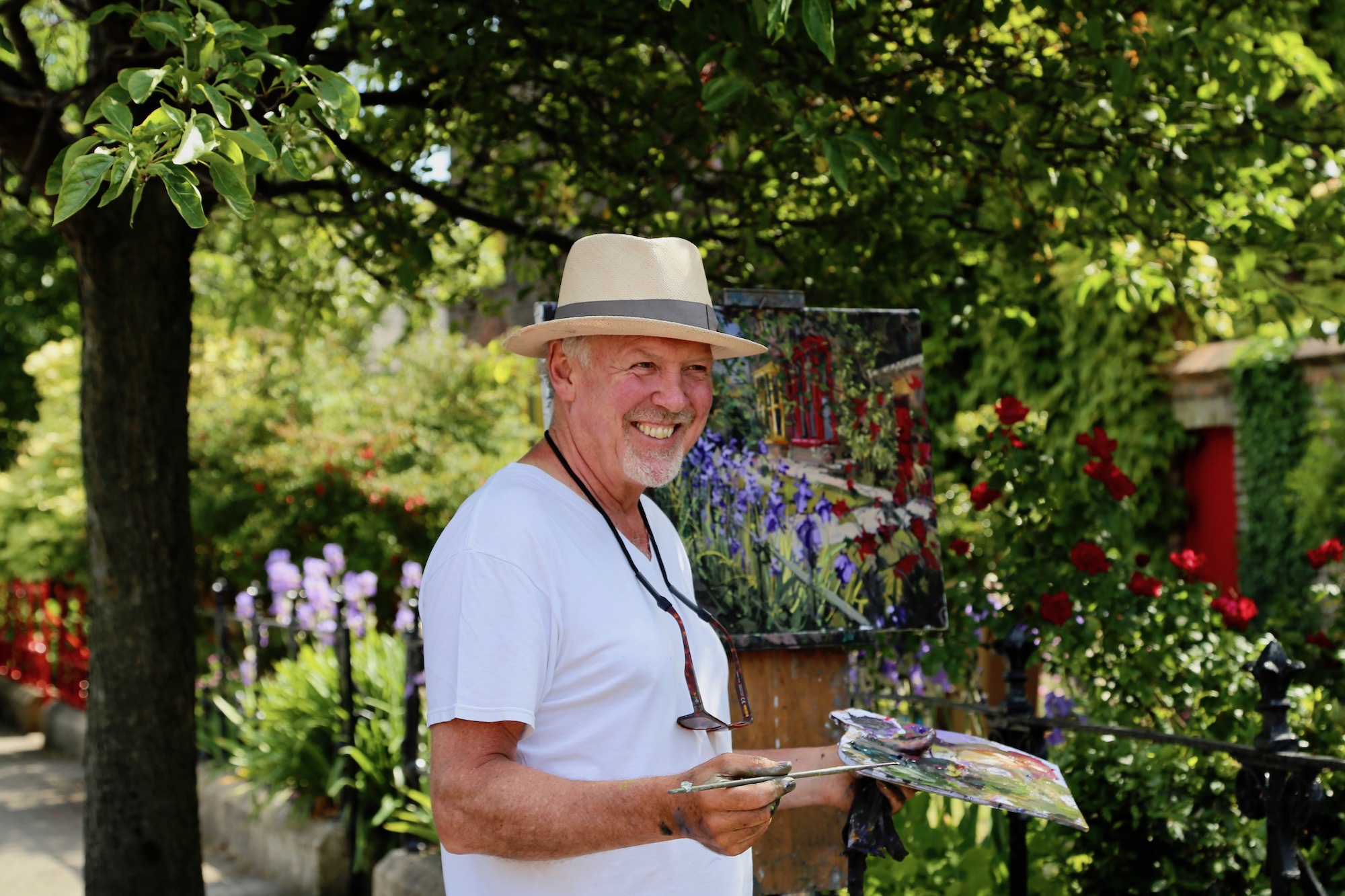 Phot. Gerard Byrne painting plein air Tranquil Pride, Moyne Road, Ranelagh, May 2020, © Colm Murphy Photography
"I decided to concentrate on painting as a way of focusing my mind on something else rather than Covid-19, something over which I had no control. It wasn't my intention to capitalise on what I was going to do. I was purely thinking about my sanity." - Gerard Byrne
The Culture Night tours provide an exclusive preview to this remarkable exhibition. There are three tours scheduled throughout the evening, and each tour will follow with a live Q&A with the artist. Booking is essential as spaces are limited.
Guests will be required to socially distance within the gallery, and we will be taking the necessary precautions to keep visitors safe. Please ensure face masks are worn throughout.
"For myself, I always write about Dublin, because if I can get to the heart of Dublin I can get to the heart of all the cities of the world. In the particular is contained the universal." - James Joyce
While the gallery will be open for the physical exhibition, the virtual version will be accessible to anyone from all over the globe.
Through the interactive 360 degree virtual exhibition, you will find yourself transported to Dublin's streets, back to the early summer sunshine and flowers. The tranquility so tangible within Byrne's painting is symbolic of the way in which the period of lockdown became, for Bryne and for many, a chance to reflect and pause the humdrum pace of 'normal' life.
Paintings can be viewed in detail as you take the time to virtually tour the gallery at your own pace.
Phot. Gerard Byrne Studio, Art Gallery Room II, Ranelagh, Dublin
The 'Pause For Harmony' 360 Virtual Exhibition project in collaboration with The 360 Company.