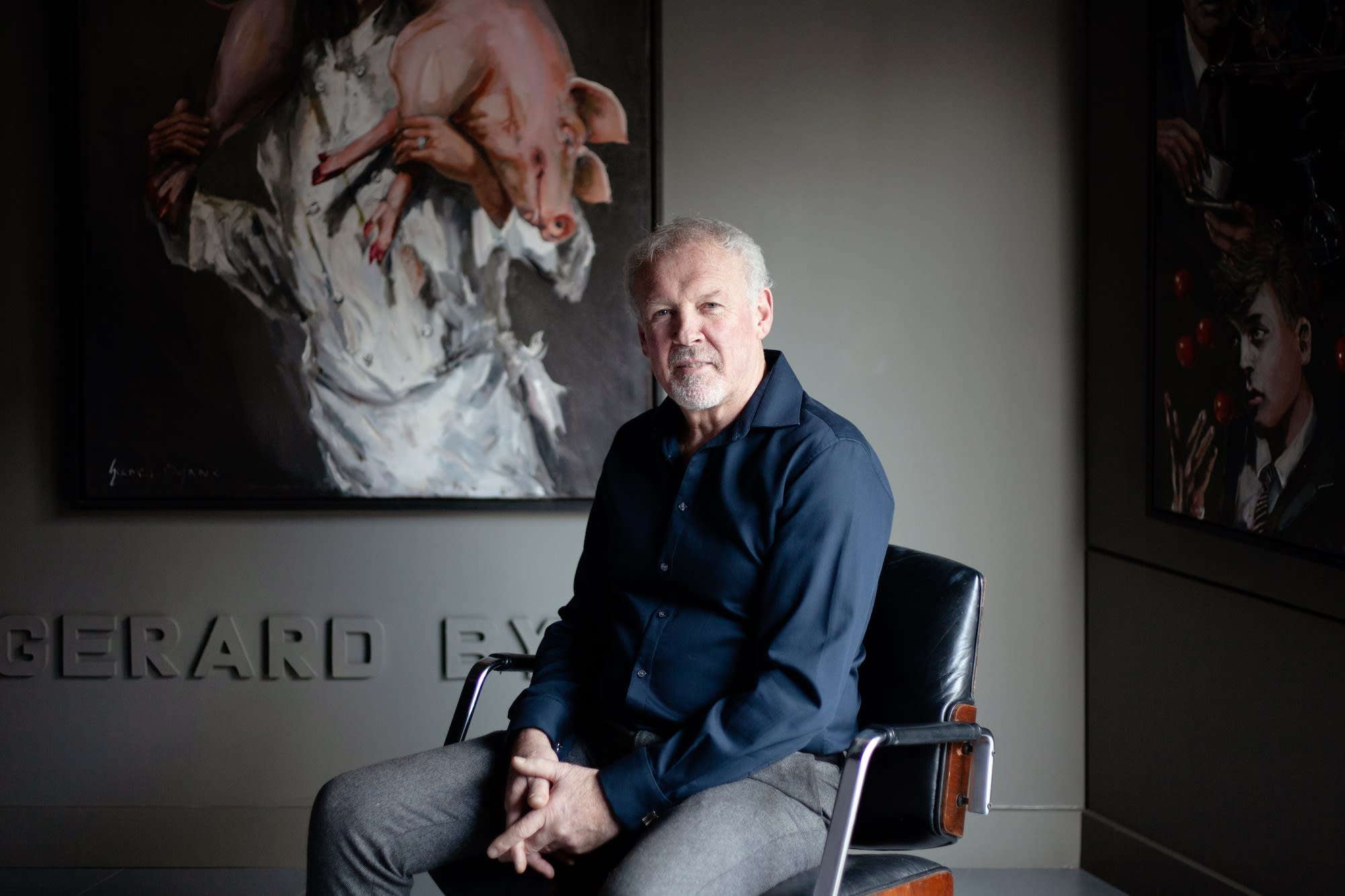 Gerard Byrne is one of Ireland's leading contemporary artists, his extensive collection is representative of a scope and versatility virtually unparalleled in the current contemporary art scene. Gerard's landscape and architectural works take us on a stunning and insightful journey through some of the most spectacular vistas, both in his native Ireland and on his foreign travels, particularly in France, Britain, Croatia, Poland and Morocco.
Gerard's frequent plays on perspective are one of the most exciting aspects of his compositions. Equally, it is thrilling and challenging to probe into his still life and figurative works and dare to delve into the mind of their creator. The sheer scale and powerful depictions presented within these works have made him one of the most exciting figurative artists on the contemporary scene in Ireland today.
The speed and spontaneity with which he works is demonstrative of a talent which is nothing short of pure nature – a true gift, which has given Gerard the confidence and skill to take his work in such diverse, complex and challenging directions. Gerard travels extensively in search of new experiences and sources of inspiration.
Gerard Byrne was born in Dublin in 1958. His works hang in the Irish Government's Art Collections and in numerous corporate and private collections worldwide.
In November 2017 he established Gerard Byrne. The Studio - Fine Art Gallery in Ranelagh, Dublin.
SOLO EXHIBITIONS
2020 Jun Botanical Fusion, 360 Virtual Exhibition, Gerard Byrne. The Studio
2020 Feb Botanical Fusion, Gerard Byrne. The Studio, Dublin, Ireland
2019 Sep Botanical Fusion, Singapore Botanic Gardens, Singapore
2018 Jun Inside Outside & Beyond National Botanic Gardens, Dublin, Ireland
2018 Apr Time is The Enemy The Gerard Byrne Studio, Dublin, Ireland
2017 Nov The Gerard Byrne Studio, Dublin, Ireland
2016 May Artists Open Houses Festival Brighton, UK
2014 Dec The Gerard Byrne Studio London, UK
2013 Aug The Gerard Byrne Studio Dalkey, Ireland
2013 Jun ART House, Dalkey, Ireland
2013 Feb ART House, Dalkey, Ireland
2012 Dec ART House, Dalkey, Ireland
2012 Aug ART House, Dalkey, Ireland
2012 Jun ART House, Dalkey, Ireland
2009 Gorry Gallery, Dublin, Ireland
2007 Greenlane Gallery, Dingle, Ireland
2007 Gallery 4, Dublin, Ireland
2006 Irish Fine Art, Dublin, Ireland
2005 Irish Fine Art, Dublin, Ireland
2004 Dalkey Arts Gallery, Dublin, Ireland
2003 Gorry Gallery, Dublin, Ireland
2001 Dalkey Arts Gallery, Dublin, Ireland
2000 Gorry Gallery, Dublin, Ireland
1998 Gorry Gallery, Dublin, Ireland
1997 Bridge Gallery, Dublin, Ireland
1996 Harrison Gallery, Dublin, Ireland
1995 Harrison Gallery, Dublin, Ireland
1995 Jo Rain Gallery, Dublin, Ireland
1994 Jo Rain Gallery, Dublin, Ireland
1994 Guinness Hop Store, Dublin, Ireland
1993 Fortune Society, New York City, US
1992 Browns Gallery, Dublin, Ireland
1991 George Gallery, Dublin, Ireland
1990 People's Gallery, Berlin, Germany
1989 George Gallery, Dublin, Ireland
RECENT GROUP EXHIBITIONS
2018 Jun The New English Art Club Annual Exhibition, Mall Galleries, London, UK
2017 Jul Pintar Rapido Chelsea Town Hall, Chelsea, London, UK
2017 Jun Landscape Artist of the Year SKY ARTS, Knaresborough, UK
2017 Jun 17th - 21st Century Irish Paintings Exhibition Gorry Gallery, Dublin, Ireland
2016 Dec Focus LDN Winter Exhibition Menier Gallery, Southwark, London, UK
2016 Nov Naked Eye Gallery, Hove, UK
2016 Sep Pintar Rapido Posthoornkerk, Haarlemmerstraat, Amsterdam, Netherlands
2016 Jul Pintar Rapido Chelsea Town Hall, Chelsea, London, UK
2016 Jun Alzheimer's in the Frame The Alzheimer's Show, Olympia, Kensington, London, UK
2016 Jun Alzheimer's in the Frame Gallery Elena Shchukina, Mayfair, London, UK
2016 May Future Nepal Charity Art Auction, UCS Hampstead, Hampstead, London, UK
2016 May Revolution Show The Observer Building, Hastings, UK
2016 Apr Focus LDN The Art of Regeneration Menier Gallery, Southwark, London, UK
2016 Feb Parallax Art Fair Chelsea Town Hall, Chelsea, London, UK
2015 May Clerkenwell Design Week Platform, Clerkenwell, London, UK
ART COLLECTIONS
The Citadelle Art Museum, Texas, USA
Irish Embassy, Beijing
Irish Embassy, Singapore
Singapore Botanic Gardens
Department of the Marine
Department of Justice
Office of Public Works (OPW) Ireland
Royal Irish Regiment
Electricity Supply Board
Guinness PLC
O2 Ireland
Deutsche Bank West LB
Powerscourt Capital
Durkan Homes
Moran & Ryan Solicitors, Dublin
Louis Walsh
Paula Rowan
Maeve Binchy & Gordon Snell
Justine Keane & Diarmuid Gavin
Sligo Park Hotel
Ballymascanlon House Hotel
Marlfield House Hotel
The Gresham Hotel, Dublin
The Shelbourne Hotel, Dublin
Dylan Hotel, Dublin