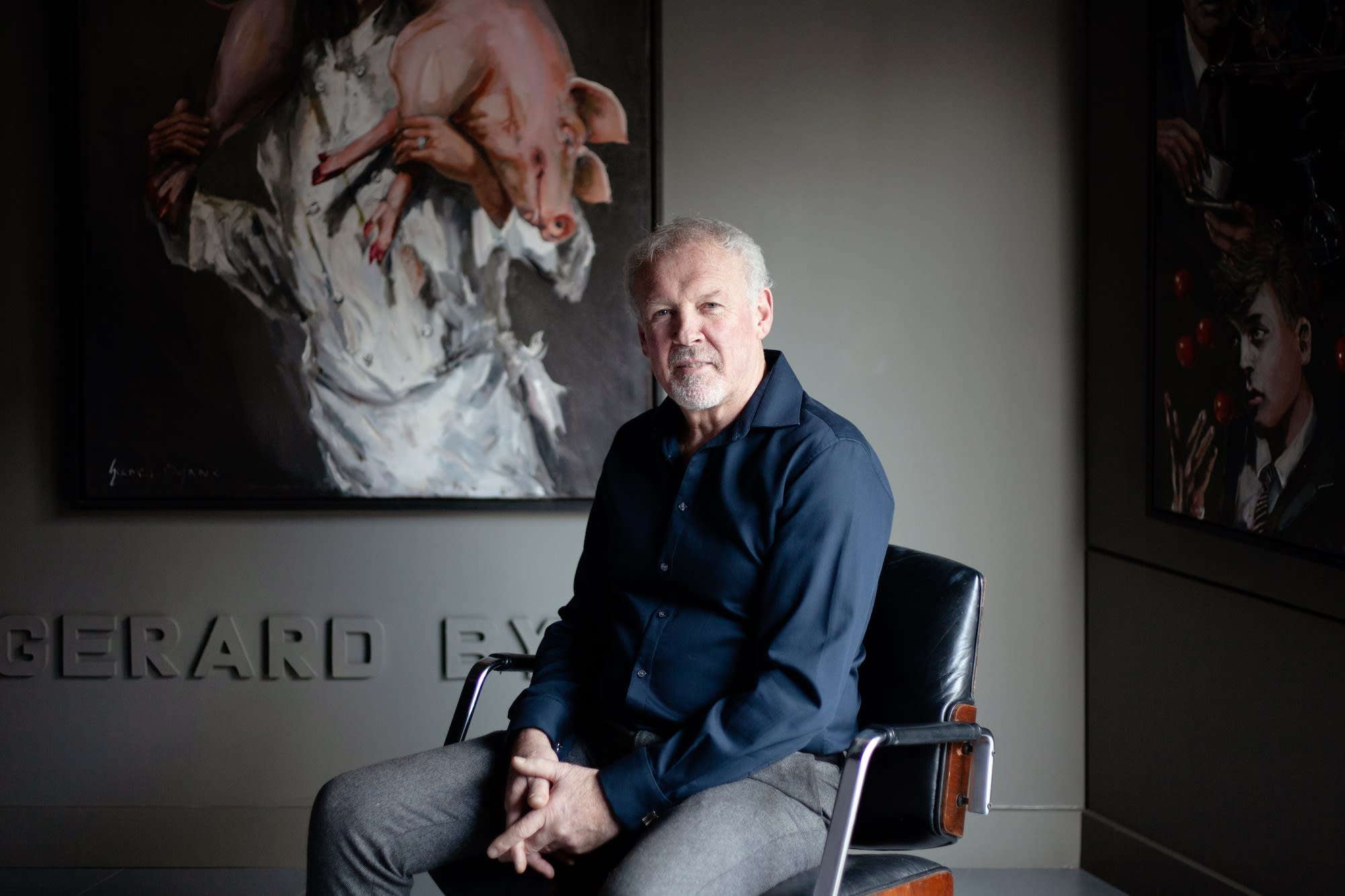 Born in Dublin (1958), Gerard Byrne is one of Ireland's leading contemporary artists. His expansive collection is representative of a versatility unparalleled in the contemporary Irish art scene. Byrne's oil painting is distinctive for its vibrant palette, expressive brushwork and skillful contrasts of light and shade, all of which bring to mind the work of the Impressionist Masters. It is for this reason that Byrne may be regarded as a Contemporary Impressionist. His artwork can be seen in collections across Ireland and the world, including the Irish Government's art collections, the Irish Embassies in Singapore and Beijing, and the Citadelle Art Museum in Texas, USA.
With no history of formal artistic training, Bryne's journey to becoming an artist is a unique one. His extensive and varied life experiences are reflected in his artwork, from landscapes to still lifes to large scale figurative paintings. The time Byrne spent travelling as a young artist around the world, from Europe, through America and on to Asia, is present in the differing qualities of light across his paintings, while his intriguing multi figure compositions suggest a life full of interactions with a variety of people from a variety of cultures.
The spontaneity of his works, their boldness, scale and sharp perspectives reveal Byrne's true natural talent. His is an artist's eye; something that is inherent, something that cannot be taught.
In 2017 he established the Gerard Byrne Studio in Ranelagh, a short distance from St Stephen's Green in Dublin City Centre. The four-room Fine Art gallery space also offers a glimpse into Byrne's creative artistic process. The Gerard Byrne Studio brings Byrne's work to the public in carefully curated, imaginative exhibitions, which are well regarded and highly respected by art critics, collectors and curators.
The motivation and determination that helped Byrne build his career as an artist and gallery owner is still present to this day. He continuously works to further his career and challenge himself artistically. In 2019 Byrne was invited to spend a month as the Artist-in-Residence in the Singapore Botanic Gardens. His Residency was initiated by the Embassy of Ireland in Singapore, and supported by the Department of Foreign Affairs.
Currently, Byrne is working towards a number of future international projects, which were put on pause due to the Covid 19 outbreak. Painting the cherry blossom season in Japan has been his long term dream, something that he had hoped to achieve this past year. Bryne plans to further his artistic connections within Asia, and is also working on potential collaborations in New York, Paris and Sydney.
Necessitated by travel restrictions and health concerns, in 2020 Gerard Byrne Studio has transitioned more to an online existence to keep pace with the evolving environment and meet the needs of our customer base. The pandemic has changed the way we experience culture and art, and the Studio is taking the opportunity to challenge the boundaries of the traditional gallery space.
With two innovative virtual gallery tours of Bryne's most recent exhibitions, both of which are accessible via this website, we have created a new online gallery experience. Differentiated from existing online platforms, which essentially represent "story reading" of an artwork's details, the 360 interactive Virtual Tours replicate, as closely as possible, the art gallery experience online. The technology is intuitive, easy to use and fun to navigate. The Studio is now accessible 24/7 to the entire global audience.
SOLO EXHIBITIONS
2022 Connections, Wilton Gallery, Glasthule, Ireland
2022 Turning Corners

, Gerard Byrne Studio

, Dublin, Ireland

2021 To the Sea. Wild Atlantic Way &Great Blasket Island Exhibition, Greenlane Gallery, Dingle
2020 Pause For Harmony, 360 Virtual Exhibition, Gerard Byrne Studio
2020 Pause For Harmony, Gerard Byrne Studio

, Dublin, Ireland

2020 Botanical Fusion

,

360 Virtual Exhibition

, Gerard Byrne Studio

2020 Botanical Fusion

,

Gerard Byrne Studio, Dublin, Ireland
2019 Botanical Fusion, Singapore Botanic Gardens, Singapore
2018 Inside Outside & Beyond National Botanic Gardens, Dublin, Ireland
2018 Time is The Enemy Gerard Byrne Studio, Dublin, Ireland
2017 The Opening of Gerard Byrne Studio, Dublin, Ireland
2016 Artists Open Houses Festival Brighton & Hove, UK
2014 Gerard Byrne Studio London, UK
2013 Gerard Byrne Studio Dalkey, Ireland
2013 ART House, Dalkey, Ireland
2013 ART House, Dalkey, Ireland
2012 ART House, Dalkey, Ireland
2012 ART House, Dalkey, Ireland
2012 ART House, Dalkey, Ireland
2009 Gorry Gallery, Dublin, Ireland
2007 Greenlane Gallery, Dingle, Ireland
2007 Gallery D4, Dublin, Ireland
2006 Irish Fine Art, Dublin, Ireland
2005 Irish Fine Art, Dublin, Ireland
2004 Dalkey Arts Gallery, Dublin, Ireland
2003 Gorry Gallery, Dublin, Ireland
2001 Dalkey Arts Gallery, Dublin, Ireland
2000 Gorry Gallery, Dublin, Ireland
1998 Gorry Gallery, Dublin, Ireland
1997 Bridge Gallery, Dublin, Ireland
1996 Harrison Gallery, Dublin, Ireland
1995 Harrison Gallery, Dublin, Ireland
1995 Jo Rain Gallery, Dublin, Ireland
1994 Jo Rain Gallery, Dublin, Ireland
1994 Guinness Hop Store, Dublin, Ireland
1993 Fortune Society, New York City, US
1992 Browns Gallery, Dublin, Ireland
1991 The George Gallery, Dublin, Ireland
1990 People's Gallery, East Berlin, Germany
1989 The George Gallery, Dublin, Ireland
GROUP EXHIBITIONS
2022 Páipéar, Hang Tough Contemporary, Central Plaza Dublin
2018 The New English Art Club Annual Exhibition, Mall Galleries, London, UK
2017 Pintar Rapido Chelsea Town Hall, Chelsea, London, UK
2017 Landscape Artist of the Year SKY ARTS, Knaresborough, UK
2017 17th - 21st Century Irish Paintings Exhibition Gorry Gallery, Dublin, Ireland
2016 Focus LDN Winter Exhibition Menier Gallery, Southwark, London, UK
2016 Naked Eye Gallery, Hove, UK
2016 Pintar Rapido Posthoornkerk, Haarlemmerstraat, Amsterdam, Netherlands
2016 Pintar Rapido Chelsea Town Hall, Chelsea, London, UK
2016 Alzheimer's in the Frame The Alzheimer's Show, Olympia, Kensington, London, UK
2016 Alzheimer's in the Frame Gallery Elena Shchukina, Mayfair, London, UK
2016 Future Nepal Charity Art Auction, UCS Hampstead, Hampstead, London, UK
2016 Revolution Show The Observer Building, Hastings, UK
2016 Focus LDN The Art of Regeneration Menier Gallery, Southwark, London, UK
2016 Parallax Art Fair Chelsea Town Hall, Chelsea, London, UK
2015 Clerkenwell Design Week Platform, Clerkenwell, London, UK
2006 Spring Exhibition, Irish Fine Art, Dublin, Ireland
2003 Great Blasket Island Inspired Exhibition, Greenlane Gallery, Dingle, Ireland
2000 Christmas Group Exhibition, Gorry Gallery, Dublin, Ireland
2000 Summer Group Exhibition, Greenlane Gallery, Dingle, Ireland
1999 Christmas Group Exhibition, Gorry Gallery, Dublin, Ireland
1991 Corporate Art Exhibition, The George Gallery, Dublin, Ireland
ART COLLECTIONS
The Citadelle Art Museum, Texas, USA
Irish Embassy, Beijing
Irish Embassy, Singapore
National Botanic Gardens of Ireland
Department of the Marine
Department of Justice
Office of Public Works (OPW) Ireland
Guinness plc.
O2 Ireland
Westdeutsche Landesbank (Ireland) plc.
Glimmer Train Press, Portland, Oregon, USA
Powerscourt Capital
Durkan Homes
Moran & Ryan Solicitors, Dublin

St. Patrick's University Hospital, Dublin

Our Lady's Hospice, Blackrock Hospice

Sligo Park Hotel
Ballymascanlon House Hotel
Marlfield House Hotel
The Gresham Hotel, Dublin
The Shelbourne Hotel, Dublin
Dylan Hotel, Dublin
numerous private art collections worldwide